ICICI Trinity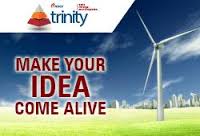 PSG College of Technology had signed an MoU wth ICICI Bank for the ICICI Trinity initiative.
Trinity is an initiative by ICICI Bank that promotes and furthers the cause of innovation and entrepreneurship amongst the youth community in India.
ICICI Trinity is a platform that promotes innovations in the field of Banking and Finance.
The ICICI Trinity programme comprises of 3 stages – Ideate, Prototype and Be an Entrepreneur. This programme seeks to identify ideas, evaluate, groom, nurture and help turn them into successful business ventures. Apart from funding, the programme provides an opportunity for a participant to meet, interact and learn from industry veterans, thereby making it a rewarding and enriching experience.
For more details and registration log on to www.icicitrinity.com